And we're onto Las Vegas! We are forced to book our vacations at work months and months in advance, so we pick weeks at random, and then work around what we end up with. This year, we took the 2nd week of June, and in a nice coincidence my favourite band ever, Nine Inch Nails, scheduled a concert in Las Vegas at the end of our time off. Decision on where to go = made. Plus we got to visit my bff and her family, and another friend flew in a few days after us for the concert so good times were guaranteed. But it IS Vegas in June….hot hot hot.
I'm usually not a pool person, but knowing it was going to be sweltering, I required we book a hotel with a nice pool so we ended up staying at The Plaza at the end of Fremont Street. We booked a really expensive ($35/night lol) room with a view down the Fremont Street Experience, and I got to relax at the rooftop pool every "morning" while J slept.
Lucky for me, the restaurant in the hotel lobby is known for having an excellent bloody, so let's begin! (Ok, so lies were told. My first bloody of the trip was on our Southwest flight, and it was terrible. Thankfully I remembered to bring Devil Dave's pocket spice in my purse, which was a huge improvement.)
Hash House A Go-Go @ The Plaza Hotel ($12? $14?)
Yes, it's a chain restaurant, and we try not to do chains, but I couldn't pass up a giant bloody right downstairs from our room. They had several options for bloodies, but I went with their Johnny's Famous BLT Mary. Garnished with lettuce, tomato and bacon, and a smoked bacon and salt rim, it was supposed to also come with toast but mine did not. That was ok though because I wasn't actually going to make it into a sandwich, and my breakfast was GIGANTIC. According to their site, ingredients include house vodka, house bloody mix, Louisiana hot sauce, fresh horseradish, and Worcestershire sauce. This drink was huge and luckily had a good flavor mix. The horseradish was strong and it was very peppery. Definitely worth drinking (and eating).
Triple George Grill, Downtown Las Vegas ($15)
By far the classiest bloody of the trip, in a classy restaurant. Triple George was on my list to check out, and it just so happened to be across the street from the Downtown Grand casino which we had visited to cash in our free slot play. Garnished with celery, shrimp, cheese, onion, olive and bacon this bloody uses Hablo Diablo mix and is spiced with Tabasco. It had a really good tomato flavor with a nice tang, and my favourite, really crisp bacon!
Immediately after Triple George Grill we moved on to…
Chicago Brewing Company @ 4 Queens Casino ($40)
I had to do a bit of research for this one, because I knew I had seen an advertisement for someplace in Vegas with several insane bloody offerings. In all the "Best of" articles I had looked at, none of them mentioned this unknown place. I asked a few internet groups, and finally someone suggested 4 Queens. And yes, that was it. Check this shit out: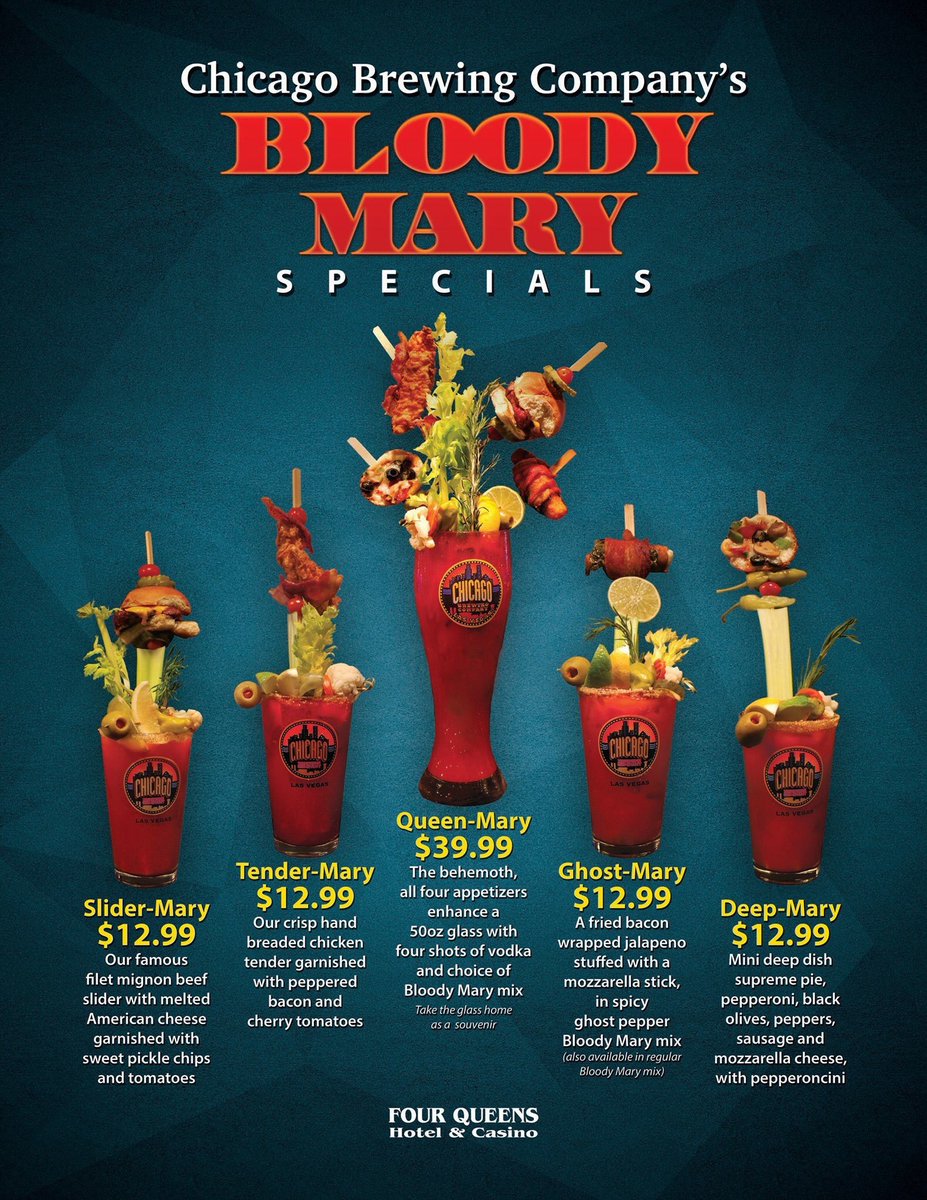 How is this place not on every single "Best of" list?!?!?!
As they say in gambling, go big or go home. So go big I did. Of course, I had to get Queen Mary, which is a combination of all the other ones. It is now my most expensive bloody mary, at $40, but 1. it's now also the biggest at 50oz with 4 shots of vodka 2. you get to keep the glass and 3. it's a meal.
I had asked for it spicy, I'm not sure if I got the ghost pepper mix, because while it was indeed spicy, it wasn't unbearable which I would expect from ghost peppers (plus I don't actually like the flavor of those ridiculously hot peppers, and this didn't have that burned smoky flavor). Regardless, beyond all the garnishes, the drink was actually good!
Because of all the garnishes, it takes 20 minutes to arrive. No problem! Patience is a virtue! And look at everything you get. If you can't tell, there's a filet mignon slider (Adam ate it and reported: "That meat cookie was legit!"), chicken finger, bacon wrapped jalapeno stuffed with a mozzarella stick, more bacon, mini deep dish pizza, celery, cheese, peperocini, cherry tomatoes and a sprig of rosemary. If you leave it on the table, you have to stand to drink it! It was fantastic.
I took a bloody mary rest after that behemoth, but the trip wasn't over yet!
The concert was at the Hard Rock Casino, which also happened to have another bloody from various "Best of" lists, so before the show I had to try it.
Mr Lucky's @ Hard Rock Casino ($22)
Normally this would be in competition for a garnish award, but the Queen Mary is going to be hard to top. However Mr Lucky's gave it a valiant try. Garnished with a waffle breakfast sandwich, deviled egg, shrimp, beef jerky, bacon and pickle, I had another meal on my hands. The breakfast sandwich was delicious, but the deliciousness stopped there. The drink itself had no flavor and no spice. This bloody was on many of the "Best of" lists, and if your basis for a good bloody is the garnishes, then fine. But if you want your drink to actually taste good too, this one is not for you. You do get to keep the glass though!
Last but not least, we needed to find some lunch on our last day, so we checked out another one from my research list.
Park on Fremont ($12)
Park on Fremont is a super cute little hipster restaurant and bar, with a nice patio (but it was tooooo damn hot!) It had been on my list as a possible brunch spot before we decided on going to Drag Brunch at Senor Frogs, so I was glad to be able to check it out before we left. The menu had so many delicious looking meals, and 3 different bloody marys. I went with the Derby Breakfast Club, which used their house made mix muddled with bacon and smoke, with more bacon garnish as well as a pickled egg. It had a great flavor from the muddled bacon with a good pepper and spice flavor, but I can't say I enjoyed the pickled egg.
**
The trip, and most of the drinks, was great. It was fun to catch up with my bff, and hang out with her kids at the pool. The concert was pretty good, and drag brunch was faaaabulous!